 
AUDIO-GD NFB 11.28 Headphones Amp / Dac / Pre performance
AUDIO-GD NFB 11.28 Headphones Amp / Dac / Pre performance
HEADPHONE AMPLIFIER / DAC / SABRE ES 9028 PERFORMANCE EDITION PREAMPLIFIER
WARRANTY2 years warrantyDedicated support
EASY RETURN 14 days satisfied or refunded
What's upgrades have included in the NFB-11.28 default version .
1, Upgraded the D/A chip from ES9018 to newest ES9028.
2, Upgraded to Amanero combo 384 (official price is USD97 exclude shipping cost) from the USB32, Amanero is the best compatible USB interface in world, and we are consider it as  best sound interface .
3, Upgraded  digital power supplies to double stage PSUs with ultra high speed ultra low noise parts, to prevent power interruption and made the background pitch black , improved transparency .
4, The DSD and PCM switch upgrade to MCU control, removed switch noise.
5, Digital filter settings can be selected To give different sound  flavours and Fit better with various headphones and allows to adjust accordingly to users taste.
6, in Addition a pair jumper allow to change the parameter of analog filter to choose  between neutral  and warmer sound quality.

Summarize
Fully  discrete analog stages without any OPA and de-coupling caps in the signal path.
Non- feedback ACSS analog amplifiers  .
Built with 4 pcs 20W (in total 80W) high speed Toshiba output transistors, able to drive  most of the headphones out there .
Total of 6 groups dedicated power circuits  are used to purify the power supply. 
High-End grade parts built in , ALPS 27 volume pot .
CMC pure copper RCA sockets ect.
3 channels digital input :   coaxial /  Optical / USB
DAC output :   RCA  (User can setting with either variable level as  DAC with preamp combo or fixed output level as dedicated DAC )
Headphone output : 6.3MM SE 
 

 About NFB-11.28?

     The NFB-11 applies the newest ESS high-end Sabre32 DA chip ES9028 which can support up to 32Bit/384KHz input . 
       To be achieve  the best performance of ES9028 , must work in current output mode.  in voltage output model, there is -12DB THD+N loss  .
       The standard current model  design usually need 3 amps (OPA) , the first amp implements I/V conversion,  the ES9028 output current signal to voltage signal .
       The second amp is responsible for conversion  balanced signal ,to single-ended signal and implement the low pass analog filter , then go through the  volume control  fed  to the third amp, (the headphone amp ). 
       Every amp usually have two gain stages built in to the ES9028 chip . Signal  must go through total of 6 gain stages and finally arrive at the output stage.
       The NFB-11 applies Non-feedback ACSS design. The ES9028 feed to the ACSS circuit without any OPAs .
       The ACSS circuit naturally working in current mode . The  ACSS amp only have one current gain stage , the ES9028 output signal only goes through one stage .
      The shortest signal path  can reproduce the best detail and dynamics  almost without any sound coloration .It showes the  real performance of the ES9028 dac.
       So our ACSS design is the best combo with ES9028 to achieve the best performance .
       Upper is the diagram  of a standard ES9028 headphone amp design. The bottom is the NFB-11 design .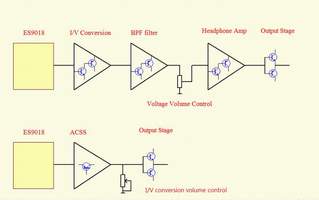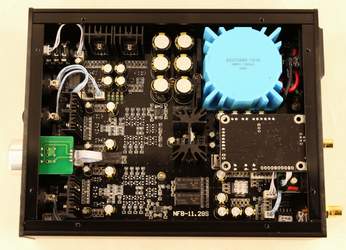 The ACSS also is a non-feedback technology made with fully discrete amplifiers. Most people know the global feedback design can offer better specs in test measurements, and non-feedback can't do well in test measurements but can offer better sound to the human's ears. Here lyes a conflict of the classic circuits.
        But the ACSS opens a new field, it can offers the least coloration to the sound which is more neutral with very low distortion and high linearity. So it can retain the dynamics, detail and neutral sound ( not bright and harsh )
        The output buffers are Non-feedback. For low impedance we applied a diamond output stage which is less colored than most conventional circuits. It is built with 4 pcs 20W (in total 80W) high speed Toshiba transistors, To early drive mostly the  headphones.
        The DAC is without de-coupling caps to avoid coloration. There are two OPAs built in as the DC servo to control offset .
        The 32bit / 384K USB interface outputs a I2S signal to the ES9028 . 
                          
    Fully Discrete ACSS headphone amp.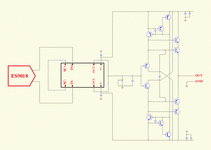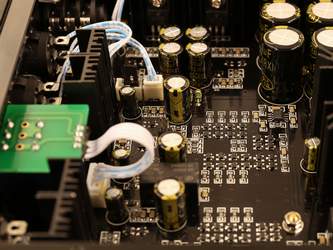 NFB-11 applies the excellent D/A chip ES9028 and excellent analog output stages, but these are not the only elements to the best sound. The power supply is a key element . Even when applying the best D/A chip and the best amp, if matched to a average power supply, the total sound characteristics may still be average at best ,maybe musical but can't be neutral and detailed. That is why it is easy to find hi-end gear without the best chips , but with plenty of dedicated DC supply circuits. 
         The NFB-11 uses 6 groups of high-quality  PSUs with dedicated DC supply . Digital and analog voltages each have separately isolated internal power regulatiors.
         The digital power had 4 groups high speed PSU groups( double stages PSUs) this allowes to  avoid the interruption from the power supply that can cause the jitter . It offers   blacker background and much cleaner sound. In addition this double stages PSUs are only applied in our USD1500+ products.
         This massive power supplie  design is usually only applied in the USD1000+ products .
         The analog power supply is more important for sound reproduction . In NFB-11 the +15V and -15V for the  analog output stages are high speed Discrete PSUs. They  offer pure and quick power supply to drive any headphone with high accuracy .The high voltage power supply can drive most headphone from 15 to 600 ohms as well.
    Strong power supply.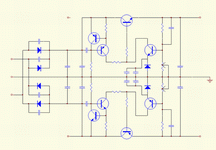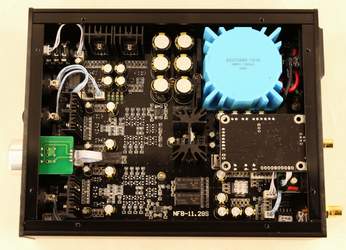 About volume in ACSS circuits:
         Volume control is very important. 
         In ACSS, it is placed at the ACSS module output, where the output is the current signal stage not the voltage stage . The volume control is I/V conversion, and the volume depends on the current (I) conversion to the voltage (V). (Like D/A chips output I/V conversion)
       As you can see, ACSS circuits have no gain, as it is a completely different circuit.
       The sound quality benefits from I/V conversion volume control. Mark Levinson also knows that current volume control has great benefits, so in their Top End preamp NO.32 volume control, they use many components to change the signal to current signal (I), then through the R-2R network to control the volume, and then change back to voltage signal (V) again. But NFB-11 is simply a more complete work in terms of the current signal, and technically, it is superior to conventional technology.

       ALPS 27 volume pot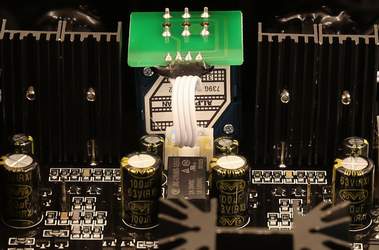 S/N Ratio


120db 
 

 Output Level


 Headphone output : 10V RMS  
Variable output : 5V Max
Fixed output: 2.5V RMS
 

Output power
(Only for headphone.)


3500mW/25 ohm

1800mW/50 ohm

900mW/100 ohm

300mW/300 ohm

150mW/600 ohm
 

Output impedance

1 ohm /  Headphone output
2 ohm / DAC output

Input Sensitivity


0.5 Vp-p(75 Ohms, Coaxial)
19 dBm (Optical)
 


Support Operate Systems (USB)
 

Windows, Mac,Linux, Iphone & Ipad

Support Sampling

  USB model: 44.1kHz-384kHz,DSD64-512
 Coaxial model: 44.1kHz-192kHz 
Optical model: 44.1kHz-96kHz 

Frequency Breadth


20Hz - 20KHz (-0.1DB)
 

Power Requirement


1 Version  100-120V  AC 50/60 Hz
2 Version  220-240V  AC 50/60 Hz
 

Power Consumption


12W
 

Package Weight


2.2KG
 

Dimensions
 

W180 X L220 X H55(MM, Fully aluminium ,with feet)  

Accessories


AC power cord            X1
USB cable                X1
 


16 other products in the same category:
Reviews
No customer reviews for the moment.